Business Associate Program
iStreet Network also offers opportunity for individuals to start their own business. The Business Associate Program of iStreet Network Ltd. for it's premier project of iStreet Bazaar gives huge earning potential for individuals looking to enter the eCommerce industry.
What is iStreet Bazaar?
iStreet Network Ltd's innovative eCommerce model called iStreet Bazaar focuses on offering the advantages of the eCommerce platform to the common man of India. With over 200 stores across Gujarat it is ready to set over 900 more stores across the western region by this financial year end. We feel proud to have been chosen for "The Summit- Dublin" one of the largest technology conferences in the world.
The video below will help you understand our concept better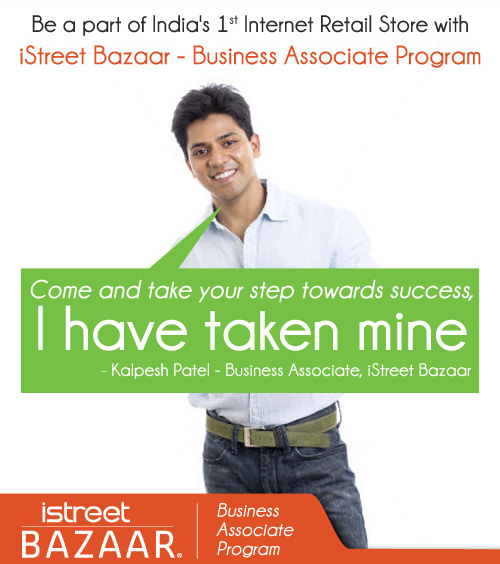 Description of the program, including special features
Business Associate (BA) program is designed to empower aspiring entrepreneurs by offering them an opportunity to build and manage a network of internet retail stores in and around their locality. The program offers an exciting revenue share model without any financial investment.
Business Associate Scope of Work-
Careful Appointment of Network Partners in his or her assigned territory
To ensure Training and Store Hygiene across his Network
Generate Sales to full potential of every Network Partner
To submit weekly Sales and Performance Reports to the ABM
To offer Service Support to the Network
Earning Potential
Rs. 20,000/- to Rs. 5,00,000/- and more per month!
Rs. 5,000/- pm maintenance allowance* (Subject to adhering base standards not related to revenue)
30% of Annual Fee for every Network Partner Acquired
10% of Renewal Fee for every Network Partner Retained
Per Store Commission from Month 1 of revenue generation
Minimum Requisites to Qualify for the Business Associate Program
Working knowledge of computers and the internet
An individual with extensive network
Strong Communication and Relationship management skills
Enterprising, Confident & Influential
Passion to earn money and to travel
Now open in – Rajasthan, Madhya Pradesh, Goa, Chattisgarh, Maharahstra
To Apply to the Business Associate Program fill the application form in detail