Founders
Pradeep Malu
Founder and Managing Director
Mr. Pradeep Malu, is a Chartered Accountant and an Entrepreneur. He is the founder of iStreet Network Limited (Old name: Principal Pharmaceuticals & Chemicals Ltd.). With his innovative approach, he redefined company's business in 2013 and led the company's foray into retail e-commerce segment in India. He has been an eCommerce professional since 1999 and has conceptualized and executed large number of eCommerce projects in B2C, B2B and C2C space.
His vision has led emergence of- iStreet Bazaar – India's first chain of Internet Retail Stores, which is about simplifying eCommerce and taking its reach to common man of India. It blends the look, feel and trust of the local Indian store with aspects of modern e-commerce like choice, convenience and quality. He advocates extension of benefit of digitalization to 'common man' as the core value driving the organization.
He also acts as teacher/volunteer in Teach India, which is a Times Group initiative to teach spoken English to the youth belonging to underprivileged sections of the urban society.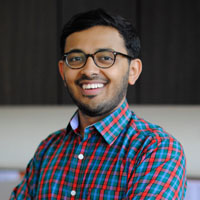 Lakshya Malu
Co-Founder
Lakshya Malu graduated as a Mechanical Engineer from Boston University, USA. After graduating he returned to India and has been working on various eCommerce projects since last 3 years. He worked on several projects in collaboration with various large brands and eCommerce platforms. During his tenure, he worked and studied – what is the present system of trade, its deficiencies, its non-transparent pricing system, its quality and authenticity process, end usage, consumer perception, how eCommerce benefits common people of India etc. As a part of one of the projects, he has also done thousands of simulations on 'make your own jewelry' project.
He conceptualized iStreet Bazaar project and ran pilots to see as how eCommerce can be simplified for the common people of India.
Prior to iStreet Bazaar Project, he has worked with Memorial Sloan-Kettering Cancer Center, New York as a Research Engineer, Cyber Materials LLC, Boston as a Research Engineer and with Exploration School, Inc. as an Instructor & Advisor.